Backdoor Revolution-The Definitive Guide to ADU Development
Press Kit Page
Book Format
The book is 358 pages. It is available in print in black and white. $25.
It is also available as an eBook in color (iPad and Kindle formats). $15.
Media Assets from the Book
Feel free to use any of these images below.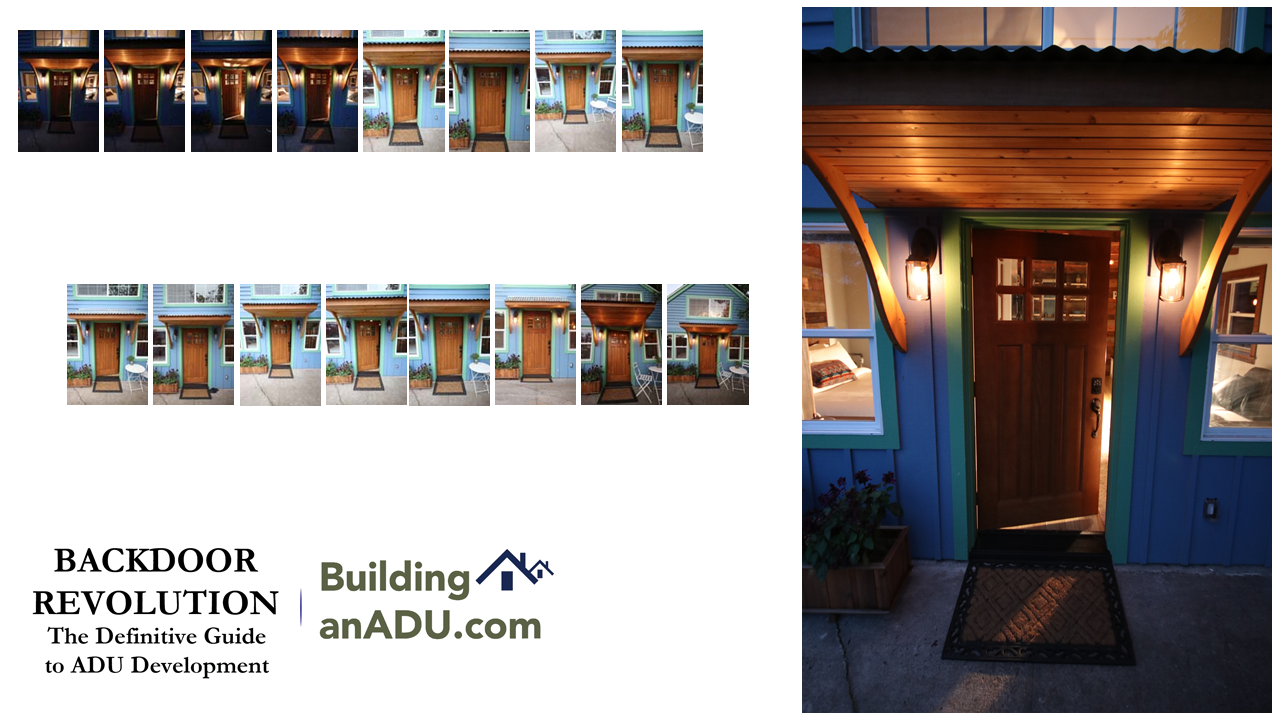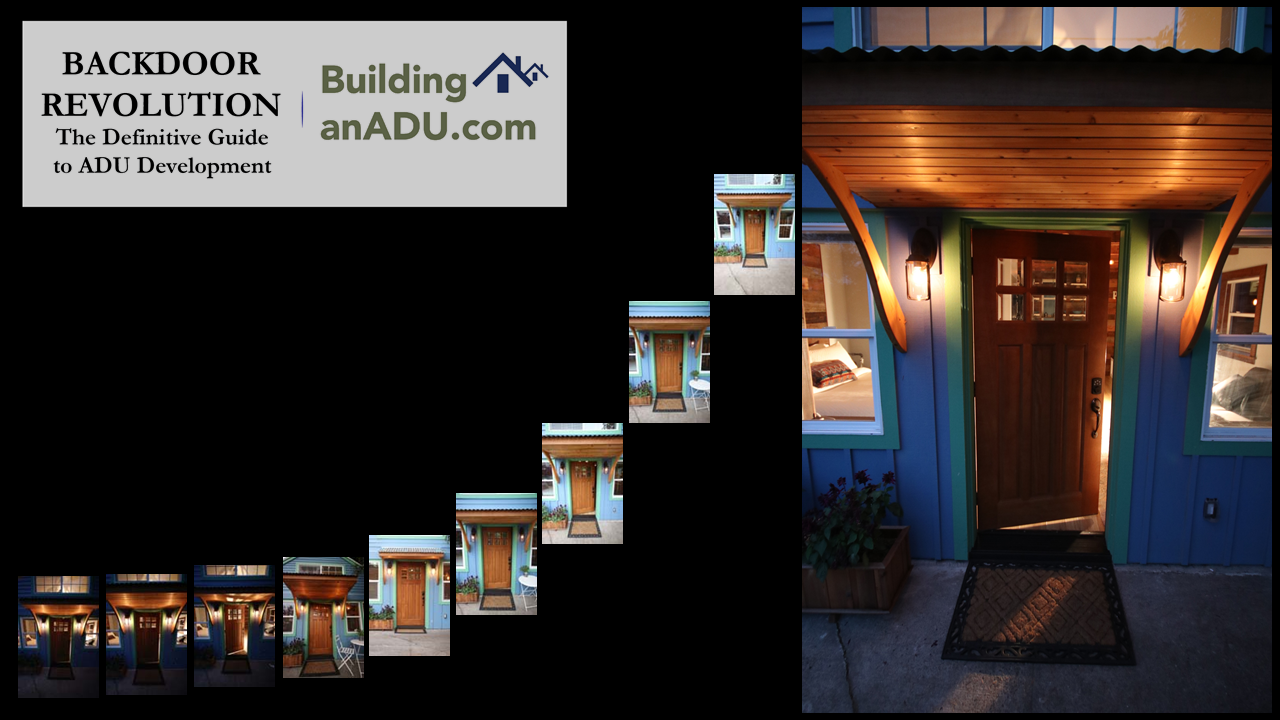 Questions and Answers about the book
What is this book about?
Backdoor Revolution-The Definitive Guide to ADU Development, is the most substantial written work about accessory dwelling units to date.
Who is the audience? What will readers get out of it?
Backdoor Revolution is written for two distinct audiences by design.
This first half of book will serve as an in-depth, detailed guide to the process of designing and building an ADU for homeowners who aspire to build ADUs. It covers costs, financing, permitting, ADU design, rental models, step-by-step guidance, and more. It is written primarily for homeowners who want to develop an ADU on their property.
The 2nd half of the book was written for planners & ADU advocates. It explores institutional barriers that have kept ADUs from taking off in most US cities till now. It provides case studies and a synthesis of research about ADUs. It will help city planners and ADU advocates to increase the number of ADUs in their jurisdiction.
ADUs are currently a rare housing form, and it was important to get both professional readers (ie. city planners, advocates) and homeowner developers on the same page by covering different aspects of ADU development under one cover.
Why do you think ADUs are going to become popular now?
ADUs are going to become very mainstream in the next 2-5 years in major US cities. Though ADUs have been around for quite some time, recent CA state legislation has helped popularize them.
As the 'missing middle housing' concept is popularized among planners and designers, ADUs are poised to present the most viable stepping-stone solution for cities that are experiencing a housing crisis, and exploring how to increase housing opportunities within their single family residential zones.
The tiny house movement has popularized small housing since around 2013, and this popularity also contributes to the consumer interest and appetite for ADUs.
These factors are converging to create a major ADU wave that will sweep across many cities in the country, starting with California, but ultimately spreading quickly to many major cities in the US, including in Colorado, New England, North Carolina, and the DC Metro area.
What are some special design considerations for ADUs?
ADUs are always accessory to a primary house. They're commonly urban infill. And, they're small and oftentimes bound by tight setback and height limitations.
Those three features make ADU design specialized, and arguably more challenging than designing a conventional larger home. There is overlap with tiny house design, boat design, and small house design generally, but many of the concepts are intrinsic solely to ADU design.
Backdoor Revolution has a chapter with 32 ADU-specific pieces of design advice.
For example, one concept that is often overlooked by those who wish to build an ADU is the need for long term storage: both interior and exterior. While it is convenient to simply not add in extra storage because it can take up precious square footage, it is critical to do so. Those who do not have sufficient storage ultimately regret it.
Bear in mind that instead of a single household on a given property, there may now be two. Both households need to store bikes, canoes, luggage and other seasonal items.
If the garage is going to be converted to ADU, the owners should consider adding a shed. It may make sense to incorporate the shed into the site plan for the ADU, to ensure that there is good flow on the property. If the shed is going to have a concrete foundation, then it would make sense to take care of the excavation and concrete work at the same time as the ADU. This will cost more, so the homeowner will need to apply for a slightly larger loan.
Building an ADU requires thinking three steps ahead. Backdoor Revolution will get homeowners thinking five steps ahead. This kind of advanced planning can really pay off, but it's impossible to plan like this without knowing what you're getting into.
Where does the name Backdoor Revolution come from?
Backdoor is actually a triple entendre.
Backdoor could be understood as a colloquial synonym for ADU entrances, since ADUs are designed to be architectually accessory to the primary house.

Backdoor is a software development technology term-of-art that refers to an application coding loophole that enables knowledgeable hackers to exploit a piece of software. Similarly, ADUs can be understood as a zoning code hack of single family residential zoning regulations, that knowledgable homeowner developers can utilize. This book equips homeowners with the skills to become these ADU developers.

Backdoor implies an indirect approach to something. The ADU movement is a grassroots housing revolution consisting of both informal and permitted ADUs. The ADU movement has already been percolating for decades, mostly in the form of informal ADUs. These informal ADUs have generally been developed under the radar, without permits, developed through the backdoor, so to speak. This book brings this informal housing phemonoma to light and contextualizes it. Permitted ADUs that are developed through the figurative 'front door' are what is actually new-unpermitted ADUs have been popular for decades. Permitted ADUs will become a significant new housing trend in many major US cities in the next few years as more cities embrace more flexible regulations.
Kol Peterson is an ADU expert based in Portland, Oregon, who has helped catalyze the exponential growth of ADUs in Portland over the last decade through ADU advocacy, education, consulting, policy work, and entrepreneurship. He is the author of Backdoor Revolution-The Definitive Guide to ADU Development. He is the owner of Caravan- The Tiny House Hotel, the first tiny house hotel in the world, and organizer of Portland's popular ADU Tour. He consults with homeowners about ADUs on their property, and teaches ADU classes for homeowners and for real estate agents in Oregon, Washington, and California. He edits and manages AccessoryDwellings.org, BuildinganADU.com, pdxadu.blogspot.com, and AccessoryDwellingStrategies.com.
Kol developed and lived in a detached new construction ADU in 2011, and developed a basement/garage conversion ADU in 2018. He has a masters degree in environmental planning from Harvard's Graduate School of Design. Prior to his ADU work, Kol worked in the federal government for ten years in Washington, DC and Portland, Oregon.
Contact the Author for any Media relations
Kol Peterson can be reached by email: Kol@AccessoryDwellingStrategies.com